Hi, I went to have Earl Grey tea from Pret a manger the other day, and had poached Salmon sandwich with water cress and mustard mayo.
I was preparing sushi ingredients for Hen party last Saturday, and I got an idea from Pret sandwich.
I made poached salmon and watercress sushi rolls with wasabi mayo with hemp seeds and spring onion, and bit of black paper on it…!
It was Delicious 🙂 Ladies at Hen Party loved them, too, and I've received the nice feedback 🙂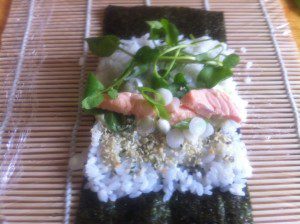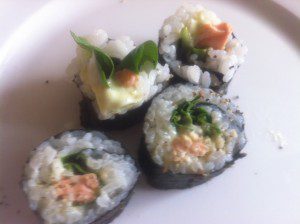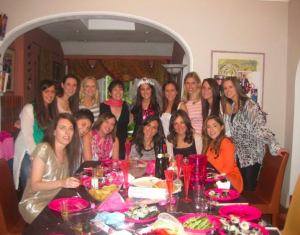 Hi Keiko,
On behalf of myself and the other girls who helped to organise the hen I just wanted to say a huge thank you for last weekend. Becks (the bride-to-be) had the most amazing time making the sushi and it was all down to you! .
The quality of the activity was top notch from start to finish and we will definitely be recommending you!
Thanks again.
All the very best,
Samara x
Thank you Thank you Thank you!
Learn How to make Sushi on Nov 15th 2014