Sushi Queen has mastered The recipe for unforgettable sushi making corporate team building events

Our Hands-on Sushi Making Workshops encourage team bonding, improve communication, and foster camaraderie's, all while rolling up delicious colourful Sushi.
Your teams will love the theme and will enjoy the delicious Sushi they have created.
SushiQueen corporate Sushi making workshops are held at your office kitchen, office meeting rooms, or Hotel conference Rooms.
Sushi Queen creates fun  and unparalleled corporate team building activities in London & UK wide
1. Customise your Sushi Event

Sushi Queen assists you design memorable best team building event!
We'll customize the event to fit your needs and requirments.
2. Fee
Mobile Service – We come to your venue
Sushi making class information
Hands-on Sushi workshop
 
Introduction to sushi
Master Sushi class
1 hour
£55
 
1.5~2 hour
£69
 
2.5 ~3 hour
 
£130pp for 5 people
£115pp for 10 people

Participants will learn and make
How to prepare sushi rice ( I will explain and send you the recipe)
How to prepare ingredients – Raw fish & Vegetables
How to roll 4 kinds of sushi rolls with Chef Demonstration
How to cut sushi rolls
–Salmon avocado futomaki sushi rolls
-Spicy Tuna hand rolls with cucumber
-California inside out sushi rolls with crab sticks & avocado & sesame
-Salmon or cucumber hosomaki sushi rolls with sesame
1 hour class – 3 kinds of Sushi rolls
1.5 ~2 hour class – 4 kinds of Sushi rolls
Inclusive of ingredients, tools with 1 x chef
Extra £65 Travelling fee / £70 -Extra chef
Sushi rice
Raw Salmon/ Tuna/ Crab sticks/ cucumber/
avocado/ wasabi/ soy sauce / Vegetables /
Spicy Mayo/ Ginger/ chopsticks / paper plates
Vegetarian option available
Sake tasting if you would like to try Sasku

Email us to book your sushi ream building event today!
info@sushiqueen.co.uk
Tel – 07727684677
3. Sushi Station – Sushi

canapé

for a drink night for Office party , and Sushi for office Lunch
Our Sushi chefs prepare Sushi fresh at your office boardroom, event space, and canteen etc.
4.Sake Tasting

Our Sake Sommeliers guide your team about the world of Sake
Discover  Japanese premium sake which is available in exclusive fine dining Japanese restaurants
Contac us for more information
1 kind of sake tasting
£9per person~minimum 10 people
2 kinds of sake Tasting
£18pp
3 kinds of Sake Tasting
£27pp
please provide glasses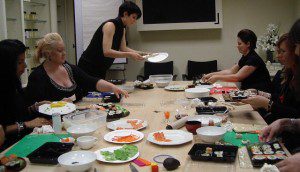 __________________________________________________________________________________________
Previous clients