Keiko is The Evangelist of Fine Sushi, Japanese Cuisine, and Sake 
She is the brains and talent behind Sushi Queen.
Her expertise and knowledge of Sushi, Teppanyaki, and Sake far surpasses.
For over a decade she has inspired and impressed her clients in London and has travelled to many corporate and entertainment events for her work.
And Keiko was filmed by UK TV Channel 4 for a new Food TV program in 2015 – The food chain
She was featured sushi making with snakehips on RedBullTV on 11/02/07 –
http://redbull.co.uk/snakehipsflyhigh
Keiko is a fan of Greggs products, and decided to fuse her two loves together -sushi and Greggs.
And created sushi using Greggs favourite products from her local Greggs shop and She showed it to Greggs. And She created a How To video so other Greggs fans could create it too.

https://www.facebook.com/keikoykeiko/posts/10155282441371100
http://metro.co.uk/2017/05/02/stop-what-youre-doing-and-look-at-this-sushi-made-steak-bakes-and-sausage-rolls-6611283/
http://www.chroniclelive.co.uk/whats-on/food-drink-news/greggs-superfan-creates-sushi-inspired-12978764
https://www.facebook.com/catersnews/videos/1477142212306743/
She offers exclusive Sushi and Teppanyaki cookery classes, and bespoke catering and also holds Sake tastings for both private and corporate events.
Her work as a Sushi Chef has landed her partnerships with some of the most prestigious restaurants in the UK including, Benihanna, Matsuri, The Colony Club, Ozu County Hall, AAYA, the Kingly club-kyashi restaurant, Sake no Hana, Savoy, and Gordon Ramse y Restaurant.


Keiko has also had the opportunity to cook for several big named celebrities such as Super model Karen Mulder, and entertainers like the band Oasis, Devon Aoki, Geri Halliwell Spice Girl, Pat Kensit, Chelsea footballers, Simon Jordon, Boy Zone, and Natalie Portman

She even had the honor of cooking for the producer of the big hit Ocean's Eleven movie, Jerry Weintraub. When the best are looking for the best Teppanyaki Chef, they come to Keiko
Keiko's passion for food, innovative food creation, cooking, and teaching has led her to become a leader in healthy Japanese cooking. She expertly combines traditional techniques with modern flair to develop the best tasting Japanese food in the world.
As she continues to gain more experience, she is honing her skills to create better tasting and healthier Japanese cuisine for the industry. This is one of her greatest accomplishments.
Her goal is to continue educating and sharing her knowledge and skills with both her clients and her colleagues. She strives for perfection no matter who her client is. She offers this information through her at home sushi and sake tasting parties where clients can learn firsthand how to prepare tasty sushi at home.
As a teacher, Keiko approaches her students in a friendly and patient tone always ready to provide exquisite advice whenever they may need it. She also understands there is an art to sushi and it can take many years to perfect this unique preparation of food. But her love for teaching makes it easy for her to provide clear instructions.
Students are thrilled to participate in her incredible and informative classes, and enjoy every second of their time spent with her. " The feedback from these lessons has been phenomenal. She builds confidence in her students and provides them with basic techniques that will stick with them forever giving them the gift of sushi.

More About Keiko

Hailing from Nagasaki, Japan, where is truly unique, the western culture found its way into the country for the first time, and where Western cultures are fused into Eastern culture.
She grew up  with her mother who is Christian, and her father is Buddhist. Her mother grew up in famous fishing villages where a French Catholic priest & aristocrat Marc Marie de Rotz built Japanese style church which is now world class heritage by UNESCO, and He devoted his life to teach people Christianity, fisheries, farming, printing, medicine, construction, milling and noodle making industry, and hired less fortunate people to work in his noodle factory.
Having influenced by De Rotz priest's generosity, devotion, and passion for humanity, her mother's family became devoted Christians, and one of her grand uncles became a priest.
Her grandfather had a successful fishery business distributing Fine Fresh fish, Lobsters, Tai, and sea urchin etc to local fish markets. Her grandfather was supporting to build local churches, and the very much respected leader of the local community.
Having grown up in a household that embraced the values often associated with Christian community; kindness, compassion, generosity and social spirits have been a constant throughout her life.
Keiko was intrigued by Christianity that one day she dreamt she would visit Europe to see the western culture, and she decided to move to London to study Fine Art, and at the same time she started her cooking career.
Her family encouraged her to become active in creative pursuits as diverse as fine art, and culinary art…and fine Japanese cuisine! Her mother has inspired Keiko with her colourful creativity in poetry, flower arrangements, sewing, gardening, and variety of cookery including Fish cookery given by her parents
Sushi is more than just a food. It is a true experience; and as any amazing experience, it is best enjoyed when there is a lot of passion involved. With such a story and a mix of cultures behind her, Keiko eventually moved to the UK to follow her passion for Fine Art & Culinary Art ; currently based in London where she is the …"The Sushi Queen"!
Not only does she provide high quality private sushi chef services, Sushi Classes, Sushi events, but she shares her skills 
and insights through culinary classes
Read more about Keiko here – interviewed and written by Huiwen Wu of wecluster.com

"I was always searching. I wanted to know who I am, why I was born, what I am here for. I was once an English teacher, but my heart told me that this was not the thing for me. When I was a kid, I drew everyday, on the street, at home, inside my mom's closet…wherever I could find a space. at the age of 7, I did one drawing of everyone putting their faces into the watermelon in the summer, and I got the prize. I realized that I needed to go back to the field of creativity. So I came to London to study fine art, only to find out that I could not make a living afterwards. I started working in a restaurant. Everyone thought I'd quit, because there were only men in the kitchen, but I kept going. I wanted to learn, to grow, to improve myself and to offer the best to people. I just could not stay at the same position for too long, or I felt like becoming a robot. I've always wanted to open my own thing but I did not have the courage. At the same time, I kept hearing my voice: "Keiko, why are you always scared? Why don't you give yourself a chance and do something for yourself?" In 2008, the restaurant I was working for was closed down. I got redundant. I found another job but was told the day before my starting day that the owner of the restaurant had run away with all the money. So I finally started everything from scratch by myself, I even created my website myself. One month later, I got my first client.
I think I have found the answer now. The meaning of life, for me, is love. It is to love yourself, to be yourself, and to give yourself chance. We are born to do something. Everybody is unique. Everybody has something unique to offer. I am quite happy that I can make a living now while expressing my creativity. I found myself and Art in Sushi."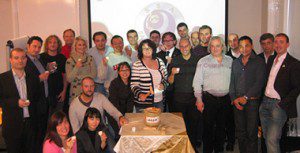 Here is a picture of me at the ceremony of receiving a sake sommelier certificate, and please read the article of this sake sommelier course http://trade.eat-japan.com/trade_news/sake_sommelier_course.html I met Mr Beau at another Sake Master class in April 2011, and I made the video for him, and He kindly introduced me in his email news letter at http://truesake.com/newsletters/2011-05.php Thank you, Beau san! He has a first Sake shop in USA called True Sake in San Francisco, I am a fan of his passion for sake! http://truesake.com