Food prepared on the teppanyaki table is so Delicious and Mouth watering, and also entertaining.

Teppanyaki means cooking on the hot iron board.
It is said that it is the most healthy way of cooking, It cooks foods ready in minutes, and it is so sizzling tasty.
Our amzing skilled Teppanyaki chefs prepare tasty foods in front of your guests.
We provides bespoke teppanyaki catering for birthday party, private party, wedding party, summer garden party, business launch party, and corporate event – corporate lunch meeting.
Why not try Teppanyaki Dinner party catering for your next dinner party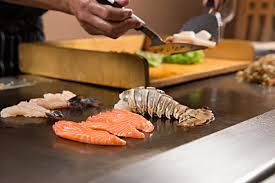 7 course meal – from £110 per person plus travel fee£60

Salad with Ginger dressing/Yuzu dressing

Grilled Prawn (spicy or lemony) with Green beans & Courgettes

Egg fried rice with Garlic and chicken

Grilled Fish (sea bass) or 2 types of sushi rolls


Main course – Teriyaki Chicken, or Sirloin steak with Japanese mushrooms

Stir Fried Vegetables with Bean sprouts

Dessert – Selection of  Japanese desserts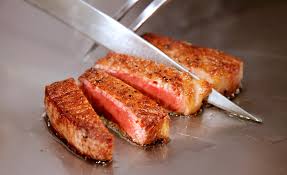 Teppanyaki  Ichiban £110

Japanese sea weed Salad
Grilled Spicy Prawn with lemon
Sea Bass with lemon Soy sauce & herb butter
Teriayki Grilled Sirloin Steak
Egg fried rice
Stir Fried Vegetables
Japanese dessert
Teppanyaki  Sakura £110

Japanese Salad
Grilled Prawn with lemon & butter & wine
Grilled Salmon with ginger & teriyaki
Grilled Sirloin steak with garlic /or Teriyaki
Egg fried rice/ or Stir fried noodle yakisoba
Stir Fried Vegetables / Japanese sea weed salad
Selection of Japanese Dessert
Teppanyaki  Fuji £129

Japanese Salad
Grilled Prawn with lemon & garlic
Grilled Lack of Lamb with mint sauce/ or Duck with orange teriyaki
Grilled so popular fish Black cod Miso
Spicy Egg fried rice/
Stir freid vegetables
Selection of Japanese Dessert
Teppanyaki Kyoto £180
Grilled Prawn with shiso butter & lemon,
Seabass or Salomo with Japanese herb butter or teriyaki, or
Selection of sushi rolls, and salmon nigiri
Grilled Wagyu beef with garlic
Egg fried rice /stir fried noodle
Stir fried mixed of vegetables / slad
Selection of Japanese dessert
Extra
Grilled Lobster – £POA
Fillet mignon
Yakisoba/udon
Rack of Lamb miso/or mint sauce
Okoyomiyaki
Wagyu beef  – £POA
Black cod miso £POA
Salmon teriyaki/miso

Talk to us if you'd like to have different menu for you dinner party,
and Sushi & Japanese dinner party catering
Would you like to add sake tasting for your dinner party catering?