Sushi Party Catering
We are not just Any Sushi Catering Campany,




We are

P

assionate

about cooking




Sens

a

tion

a

l

Sushi & Japanese food




to

Sp

i

ce

up Your Events & Sushi Parties.

________________________________________________________________________________________________
Private Sushi chef service


We cater Fresh Restaurant Quality Tasty Sushi prepared in front of your guests
Free initial consultation to personally design your men initial consultation to personally design your menu.


Shopping for menu items




On-site Sushi and food preparation




Sake selection by certified Sake sommelier




Sake pairing for event & party catering




Sushi & Wine Pairing with our selected Wine specialists




Sushi chefs could either demonstrate sushi preparation in front of the guests, or in the kitchen.
Sushi party catering starts from £15~£65 per person

Discuss with us your requirements, menus what types of sushi and Japanese dishes you'd like to have for your party, and we'll create the menu, and cater to suit your requirements.

We buy the finest ingredients to create Sushi and Japanese dishes – Raw fish we supply from same fish monger as Nobu.
We offer Sake tasting event, and Sake sommelier guides you through the world of Sake.
Sushi and Sparkling Sake are great match, why not try for your party?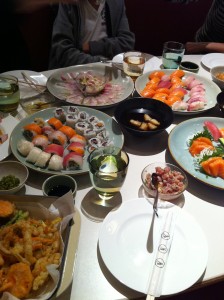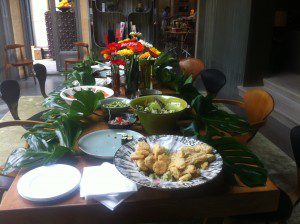 _________________________________________________________________________________________________________________

Sushi Demonstration for Business Fairs, Events and Party
Sushiqueen also offers Sushi making workshops for Business and corporate Events and fairs to attract more people to your Stand at the business fair.

£500
for 1 hour of sushi demonstration for Business events and fairs,

£150 every hour thereafter.
for Full day Sushi Demonstration for Business Event and Fair,
please contact us for more information, and tell us what you need and your requirements!
We will help your Business Fair and Event Successful


Teppanyaki Catering Menu
£500 – 5 people, and £85 per person thereafter

Fuji course – Free range chicken cooked with teriyaki sauce Rib eye steak served with ginger sauce
All order comes with – Miso Soup, Salad, Grilled Prawns -mushrooms and grilled vegetables courgette, green beans and bean sprouts -Fried rice with Garlic
Green Tea Ice cream with Fruit/ Green tea Cheese cake / Strawberry tart / Strawberry Cheese cake
Sushi Queen Deluxe – Grilled rib eye steak -Grilled delicious juicy half lobster
Buffet Teppanyaki Catering Available £40~

SushiQueen Sushi catering is perfect for birthday party, cocktail party, cocktail reception, and corporate functions, business launch, office parties, corporate cocktail parties, business receptions!