1. Customise your party
Planning fun unique experiences and Spice up your Birthday party, or Hen night party?
Impress and Surprise your special someone, bride to be for hen do party, loved ones, and guests with a Sushi making party
We will help you create memorable delicious mouth watering sushi cookery party
We'll customize the event to fit your requirement
Our goal is 100% customer satisfaction.
2. We help find the venue if you require

We usually visit clients home & venues for hen do sushi cooking party.
We could accommodate 12 people at our kitchen

3. Pricing information

£550 for 10 people
£370 for 3
£400 for 4
£450 for 5
£470 for 6
£490 for 7
£510 for 8
£530 for 9
£590 for 11
£600 for 12
£650 for 13
£890 for 20
plus delivery charge £30~50

"Hi Keiko
On behalf of myself and the other girls who helped to organise the hen I just wanted to say a huge thank you for last weekend. Becks (the bride-to-be) had the most amazing time
"We really did have a great day and enjoyed the sushi making very much.
It was informative and fun and a brilliant way to spend an afternoon.
Plus the food was fantastic!
Thank you for running such a great event and for all the time and effort put into the planning."
All the best for your future classes"
 Sushi Hen Party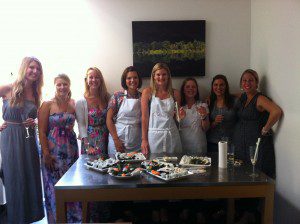 Hi Keiko
Thank you for a brilliant day on Saturday, we all had a great time. I think we all learnt something new – especially how to use a knife properly. We were all amazed at how good the Sushi looked & it tasted fantastic. I would highly recommend your course.
making the sushi and it was all down to you! .
The quality of the activity was top notch from start to finish and we will definitely be recommending you!
Thanks again.
All the very best, Samara x"