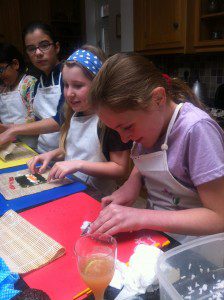 Sushi Queen is dedicated to offer delicious & fun kid's sushi making parties
for children under 15years old.
At this successful kids sushi making lessons,
Children have so much fun making varieties of sushi,
and enjoy having sushi they make.
Children will learn to make 3-4 types of sushi rolls
such as thin rolls, carifornia inside out rolls, salmon avocado big rolls,
and a hand roll – temaki sushi
Kids Sushi Lesson lasts 2-2.5hours.


Kids sushi rolls Making classes are ideal for after school activities and birthday parties
Group Kids Sushi making Lesson Fee for Age between 7-15 years old
10 Children £410
Minimum 5 children
£300 for 5
£330 for 6
£350 for 7
£370 for 8
£390 for 9
at your home venue plus travel fee £25

Mother and a child -£280 / Mother and 2 children-£320
Parents and a child £340 / Parents with 2 children -£370
Testimonials
"Dear Keiko, Many thanks for the delightful video!
We all had an excellent time. Thank you so much for making it a really memorable birthday party.
It's brilliant, Have a wonderful Christmas."